Create a school address book easily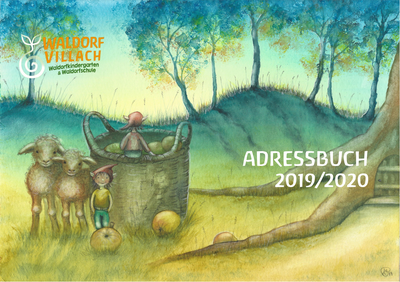 The WSDB offers as a standard feature the export of a school address book and accesses the WSDB address data of students and their related adults and contact persons as well as teachers and community members. The current state of the data can be automatically exported at any time and thus exported as an address book at the push of a button. The cover pages were designed by the Upper Austrian artist Kerstin Schmolmüller. Kerstin was a Waldorf student herself, taught at the Waldorf School Linz until 2013 and has three children at the Waldorf School Linz. The address book format is pre-defined in A4, different designs are available for the cover page. The export is in PDF format and can be used for professional printing if required.
Formats and design ideas that deviate from the standard can be requested separately and will result in a matching offer. The costs for special designs are to be paid by the respective school. The standard form is available to all users for FREE!
If you have further questions about address book export, the WSDB team will be happy to answer them.
Imprint:
Cover images: The copyright for the work and the photo is held by Kerstin Schmolmüller, artist, Waldorf student/-mother, Swiss living in Upper Austria
Software/Layout: X-Net Services GmbH, www.wsdb.eu