Timetable administration
The WSDB provides timetables for each class and teacher individually and clearly arranged, room allocations can be called up.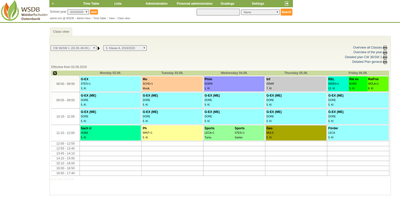 The WSDB integrates the entire timetable management. Timetables and epoch plans can be created centrally and clearly arranged. For each school year and every class there is a view of the timetables, epoch plans can be called up separately. Teachers can view or print their personal timetables via a separate access.
Besides viewing individual classes, the entrie timetable can be exported as a PDF overview. Additionally a room allocation plan can be called up.