Grading whole year
How are annual gradings created? How is a grade given? How are verbal gradings written?
Administrators can view and edit the assessments of all students. Teachers only have access to the students they are allowed to assess. However, reading rights exist for all assessments within the classes in which the teacher in question teches.
Grading whole year: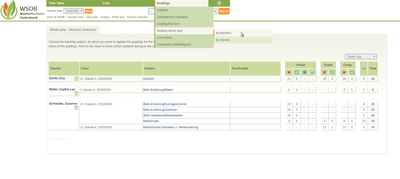 The gradings are created in the main menu "Gradings" under "Grading whole year". The overview list can be displayed "by class" or "by teacher". If you choose the overview "by class", you click on the appropriate class to get an overview of the individual subjects and the students to be assessed for this class.
If you choose the overview "by teachers", you also get this overview by clicking on the subject.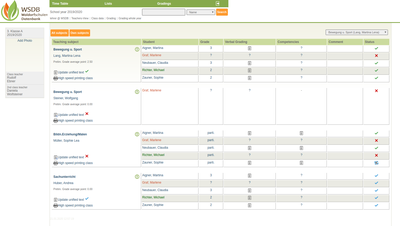 A unified text (*) for the verbal grading can be entered for each subject. To do this, click on  "Update unified text".
(*) Unified text:
Appears at the printout of the report for each student and is a short summery of the teaching material.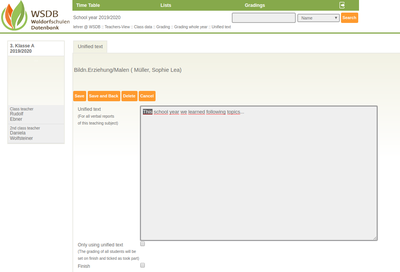 The unified text for all verbal gradings can be entered in the form. If there is no student-specific grading, a check mark can be placed in the "Only using unified text" checkbox.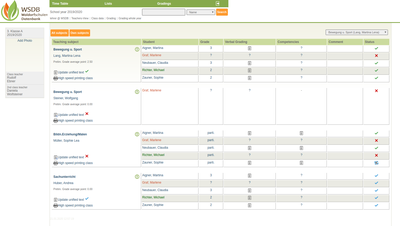 By clicking on "High speed printing class" you get an overview of all verbal gradings in print form.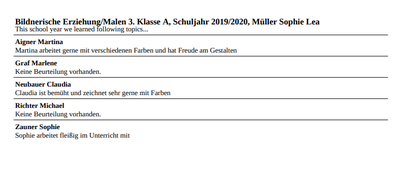 By clicking on the name of the student who is assigned to a subject, the grading for this subject can be created. In addition to the respective grading options the form contains the following fields:
Print Competencies: If the check mark is deactivated, the competences for the selected student are not printed on the report.
Unified text: If the check mark is set, the unified text is also printed on the report.
Finish: If this check mark is set, the grading is finished for the student and is displayed in green in overview.
Comment: There is space for any comments. However, they are not printed on the report.
Competency Grading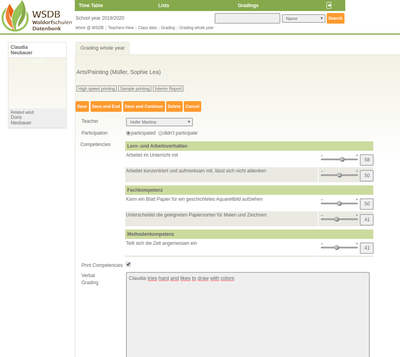 If the competency grading is activated, the competences assigned to the class and the subject can be assessed for each student using a compentency bar. This assessment is shown on the report and gives an overview of the skills acquired in the schooly year. All competencies that have not been assessed are excluded from printing.
With "Save and continue" you get the next student.
With "Save" you can save at any time.
Sample printing: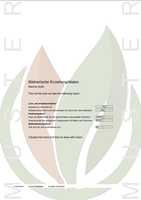 "Save and end" takes you back to the overview page. If the assessment for a student is completed, this is indicated by a green tick in the corresponding line.
With the end of the epoch, it is possible for every teacher to immediately record the students' gradings.