Reports
How can a report preview be created? Where is it possible to note missed lessons or comments on a student?
All teachers can take the grades online and write verbal assessment. As soon as each student is graded in each subject, the certificate can be created and printed. The format of the reports is predefined, so that verbal assessments of different lenghts can be exported in a uniform shape as a report.
Unter Grading / Graduations Sheet / Reports
Select the class for which you want to edit the report data (e.g. missed lessons or comments), check the progress of the grading or view a report review.
Attention: some functionalities are only accessible for class teachers and tutors! Only administrators can create and print reports.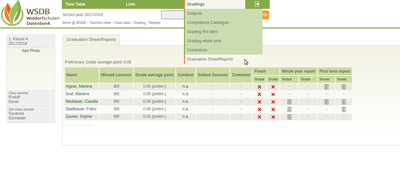 Missed hours and/or comments can be entered by clicking on the stundent's name.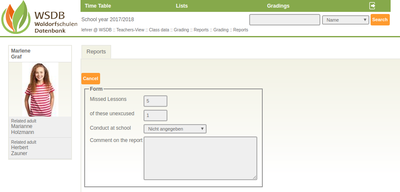 "Finish Verbal" und "Finish Grade":
If you place the mouse pointer on the red cross, you can see which teaching subjects have not (yet) been assessed.
Before the grading closes, preview documents can be created for all available gradings at any time. To do this, select the relevant document in the columns below. The document will then be opened as a pdf.