Subjects
How are teaching subjects managed? Which subjects are to be assessed how and which students are assigned? Are students correctly assigned within a subject group?
Lessons are usually created by the person who plans the lesson. Subjects and teachers as well as the type of grading are assigned to the school classes. A change or addition can be made subsequently.
The list contains the following information:
Teaching subject
Teacher
Number of students allocated
Subject Group
Types of assessments

G = Note-Grading
Add. = Addition of new middle school
(Basic and in-depth general education)
V = Verbal-Grading
C = Competency Assessment
P = Participation

Grading permission:

The person named may assess the respective subject.
If it is shown in italics, the person is printed on the report document.
An grading permission can only be issued in the admin view.
The assignment of the students to the subjects should be checked by the
respective teacher by the start of school at the latest.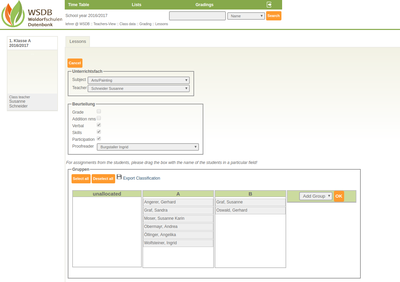 This assignment is the basis for the absence of the student, which will be necessary later in the electronic class book.
Group of subjects:
If the teaching subjects belong to a group of subjects, the assignment of the students will be checked automatically. If a student has not been assigned to any of the relevant subjects, the subject is marked with an

 ICON: "No Assignment" including name. Attention is also drawn to a "Multiple Assignment" 

(see green marking)
No Assignment: Student was not assigned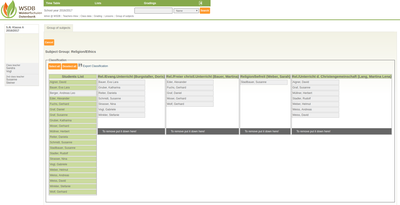 By clicking on the subject (where an assignment is outstanding), you get to the subject overview with the respective name. As the picture shows a student (Berger Andreas Leo) has not yet been assigned. Click on the name and drag it to the desired group. Click on "Change" on the top left. The group assignment has now been saved. After successful saving, the red ICON should no longer be visible.
Multiple Assignment: Student was assigned twice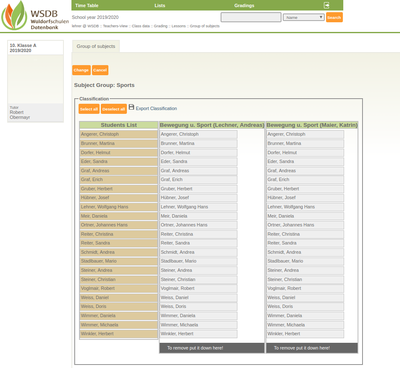 Here you can see that all students have been assigned to all groups. To remove from a groupe, simply place the name on the gray marking.
Complete list of grouping by .CSV-File 
By clicking on "Export Classification" you will receive a complete group classification list including the respective subject.